Creating a WordPress website is a 3-step process: you need to sign up for hosting, choose a WordPress theme, then customize the theme to design your site. While all of this can technically be done for free, most businesses will pay a small monthly hosting fee (~$3/month) in order to use their own domain and premium features.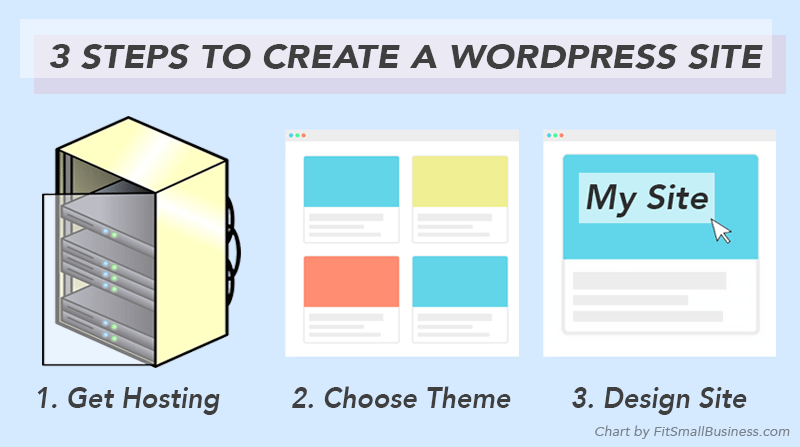 In this guide we'll walk you through the entire process of how to make a WordPress website, starting with choosing a host provider:
Step 1: Sign Up For Hosting
A host is the service that "stores" your website, and typically can also provide your domain name (www.YourSite.com) and business email accounts. While technically you can use any host to set up a WordPress website, a few specialize in WordPress specifically, meaning the platform comes comes pre-installed.
We compare a few of these providers below, including WordPress's own hosting service, WordPress.com, and our recommended provider Bluehost.com.
|   | Bluehost | WordPress.com Paid Hosting | WordPress.com Free Hosting |
| --- | --- | --- | --- |
| Starting Price | $2.95/month | $4/month | Free |
| Storage | 50 GB | 10 GB | 6 GB |
| Custom Domain Included? | Included Free 1 Year (Then $13/year) | Included Free 1 Year (Then $13/year) | No, must use WordPress subdomain |
| Email Included? | Yes, up to 5 professional email accounts | No | No |
For the price, Bluehost gives you the most storage, and offers the perk of professional email accounts (You@YourSite.com). You may be tempted to go with the free version of WordPress, but bear in mind, you'll have to use a WordPress subdomain (YourSite.WordPress.com) and you'll have limited design and customization options.
If you want to compare hosting options in greater detail, check out our full guide to WordPress hosting costs. We're going to continue with instructions on how to set up Bluehost, our recommended host provider.
How to Make a WordPress Website with Bluehost
To get started with Bluehost, simply follow the link and click "Get Started Now." The first step is to choose your hosting package. Their basic plan is just $2.95/month when you sign up for 36 months, and should be sufficient for most small businesses.
Next, you'll choose your website domain— e.g. www.YourBusiness.com. Most businesses prefer to use a .COM name, since its the most popular and well known extension. If your top choice is taken, consider adding an extra word, like your city name, or check out our top 25 domain name ideas for additional tips.
You can also use the tool below to see what's available:
Lastly, you'll enter your payment information and finalize your order. Keep in mind, in order to get the best pricing, you do need to pay for 3 years upfront. However, you can also cancel within 30 days for a full refund. If you aren't happy how your website turns out, simply cancel and try a different option.
Accessing WordPress
Once you're registered with Bluehost, you'll be prompted to set a password and confirm your email address. After this, you'll reach the Bluehost welcome page. Before you begin working on your site, there's 3 quick steps to complete: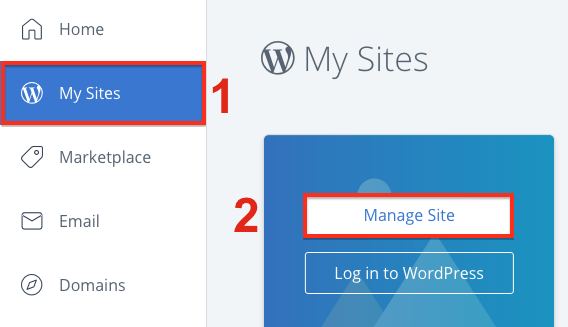 Click "My Sites" on the left panel, then "Manage Site."
Find the "Settings" panel. In the box that says "Site URL," change the temporary URL to the one you just purchased. This ensures your new domain is linked up with your new site.
Now click the "Security" tab. In the box that says "Free SSL Certificate" click enable. This will change your website to an "https," which is better for search engine rankings.
Once those steps are complete, click "Log in to WordPress" to start working on your site.
Step 2: Choose Your WordPress Theme
To create a WordPress website, you first need to choose a theme. A theme is basically a pre-designed website that you personalize with your own text and photos. It's much easier than starting from scratch, since you get to follow a visual template on where each photo, paragraph or feature should go.
To design your website, you just need to input your text and photos. There's no programming required, although you can modify just about everything—like fonts, colors and formatting—from the simple customization menu.
If you want to see even more options, you can browse through the WordPress free theme database, or view premium themes by clicking "Commercial Themes."
Step 3: Design Your Site
When you first log into WordPress, you reach your WordPress dashboard. This is the main 'control center' of your website where you'll design your pages, make edits, add blog posts, etc. using the menu options on the left side: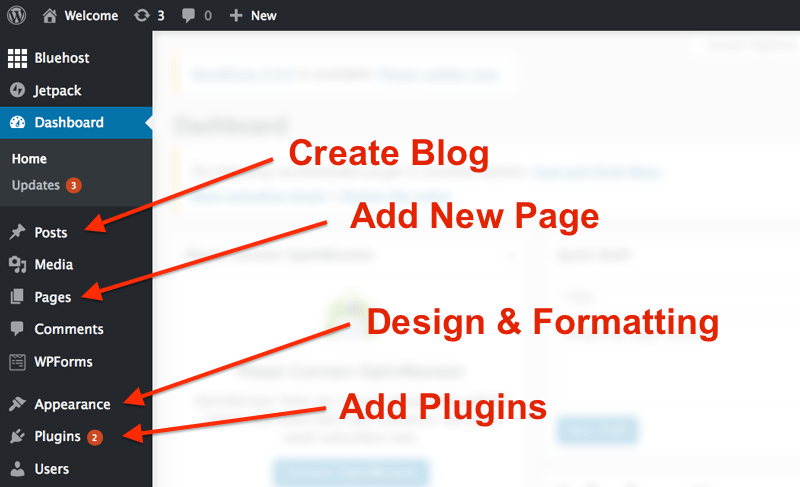 Here's a quick rundown of each of these menus:
Posts: If you want to add a blog to your business website, "Posts" is where you'll go to write, edit and publish new blog articles.
Pages: This is where you create website pages, like your About, Contact or Pricing pages.
Appearance: This is the main menu for editing your website's style. Under "Appearance" you can choose between different themes, and then customize the colors, fonts, and other formatting options for your website.
Plugins: These are additional features you can add to your website, like contact forms, or ecommerce. Some plugins are free while others charge a one-time or recurring fee.
The steps for setting up your website will vary depending on your theme, so I recommend choosing a theme first, then finding specific instructions for that theme. For example, if you chose a Fit Web Themes WordPress theme, you can find instructions linked above.